Since 2021, our Marketplace has originated over 20MW of clean energy projects, attracted providers with over 51GW of clean energy project experience, and saved our buyers, on average, $650k per project. Here we break down how we've gone about improving the RFP process for commercial solar procurement.
The problems with traditional RFPs
If you're a corporation that wants competitive proposals for your clean energy project, you will need to run a Request for Proposals (RFP). Unfortunately, the traditional RFP process is marred with inefficiencies and headaches. Here are just a few:
🎣

Uses small, private networks to procure from

The most important feature of an RFP is to have a robust, large network of developers to procure from. Without this competition, it is unlikely you will get the best price for your project. Running an RFP yourself limits your RFP's reach to your existing network, and if you do not have a solid network, you would need to scrape the internet for developers to reach out to.
😩 Decentralized, unorganized processes
Traditional RFPs are black-and-white, long-form PDFs that are sent to providers via email. Providers read the RFP, ask questions by sending back-and-forth emails, and ultimately respond to the RFP via email and spreadsheets. By relying on this archaic process, you run the risk of overloading your inbox, straining your resources, and potentially missing information that's buried in an email or attachment. After all the RFP bids are collected, your team still has to evaluate the bids, which usually involves putting the bids side-by-side in a spreadsheet and developing a scorecard or criteria.
🐢 Slow and inefficient
Traditional RFPs, from initiation to contract signing, take anywhere from 12-18 months (depending on the maturity of the buyer, the size of the project, and other key decision criteria). On top of this timeline, the clean energy project itself can take anywhere from 6-12 months after the RFP process concludes. In other words, if you're a corporation that lists your own RFP, you're looking at anywhere from 18-30 months before your clean energy project is operational.
A better way to do clean energy
Station A is improving the traditional, lengthy, manual RFP process into an efficient, fast, and seamless experience. We're accomplishing this in 3 key ways:
👫 Maintaining the largest network in clean energy
Station A has over 2,000 qualified providers to procure from. Our providers range from the largest global providers in clean energy to smaller regional players.

🙌 An organized, centralized platform
All of Station A's RFPs are hosted on our Marketplace platform. In contrast to the back-and-forth email process of traditional RFPs, our Marketplace serves as a central hub where providers can view all project details, ask questions, and submit proposals. Best of all, after the RFP process is finished, Station A compiles all proposals in an apples-to-apples format so that buyers can seamlessly select a winner.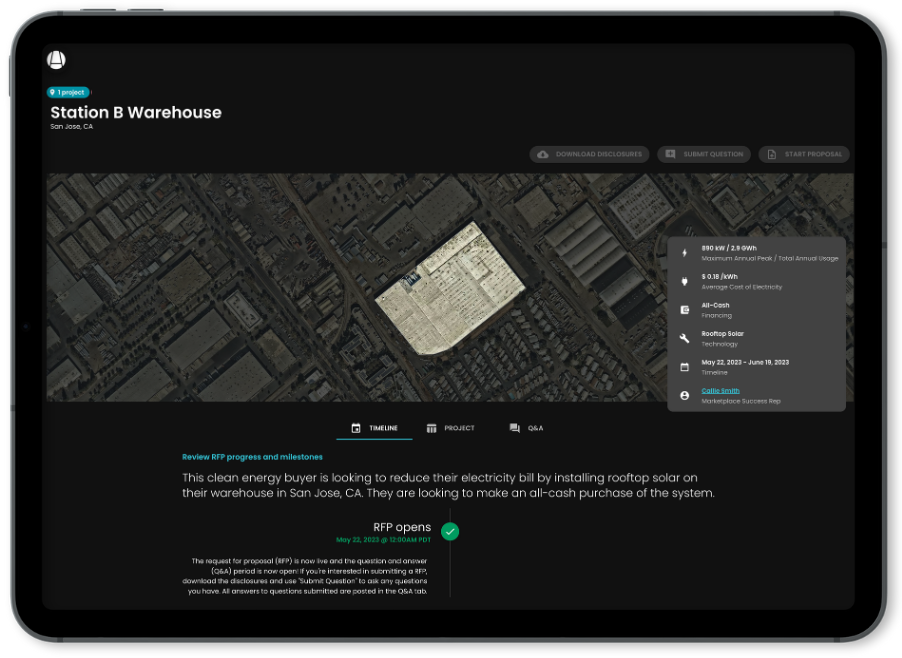 🏹 Fast and efficient
Our goal is simple — get our buyers reliable, contract-ready proposals as quickly as possible. In contrast with the traditional RFP process, which can take anywhere from 12-18 months, our process takes about half the time. We're able to be faster than the traditional RFP process for several reasons:
We've standardized the submission process using an online platform that our providers are accustomed.
We've built internal tools that help our expert team compile RFP submissions into an apples-to-apples presentation that allows a buyer to confidently compare their options which helps prevent "analysis paralysis" in the decision-making phase.
We advise and consult our buyers along the process to ensure that they have everything they need to get their project under contract.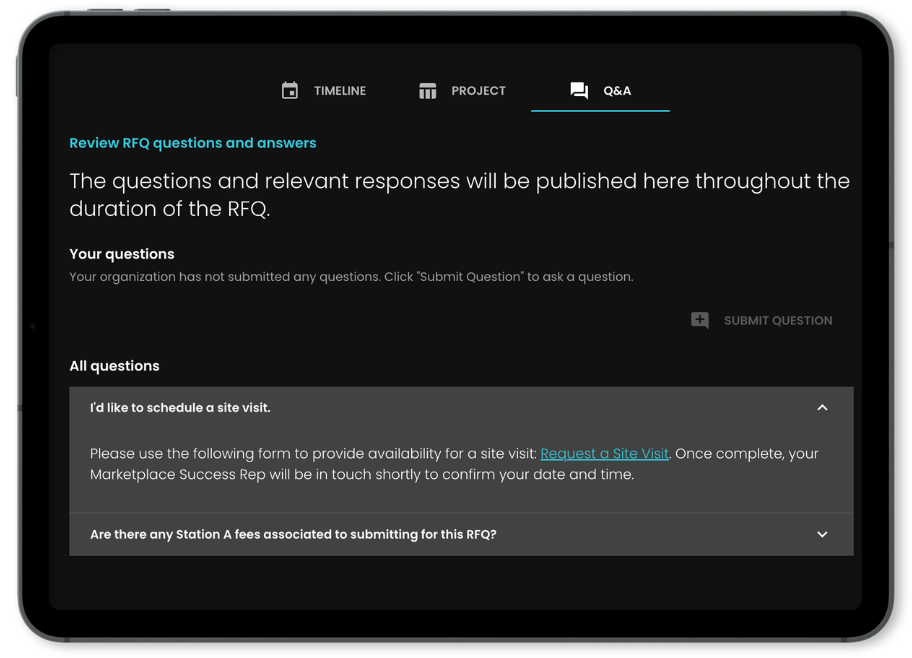 Don't just take our word for it. Look at the numbers
After running over 20MW of projects through our marketplace, we have accrued thousands of data points that attest to our Marketplace's efficiency.
💰 Price discovery leads to project savings
Our Marketplace exposes our buyers to a universe of eligible providers in order to receive best-value pricing and comprehensive proposals. On average, the difference between the lowest and highest bids on an RFP hosted in our Marketplace is 59%. This delta amounts to an average project savings of $650k for our buyers. We also run shortlist rounds (aka Best and Final) that produce an average price improvement of 5.4%. In other words, the total CAPEX price of our buyers' clean energy projects decreases by 5.4% from the first round to the shortlist. For an average 500kW commercial solar project that costs $2/W, or $1M total, 5.4% translates to $54,000 in savings.
🏆 High-quality RFPs attract top providers
An RFP process would be nothing if high-quality providers didn't participate. In the past three years alone, our providers have a cumulative 51GW of total project experience. In addition, the average EMR safety rating of our providers is 0.67 (when an EMR rating is below 1.0, a provider is considered to have better safety records than others in the industry).
🌎 A large network matters
On average, we reach over 1,500 providers per RFP. This has resulted in over 890 unique views of our RFPs, 481 disclosure package downloads (the disclosure package is a set of documents with comprehensive client data that providers need to bid on projects), 323 proposals started, and 138 submitted proposals.
Station A's goal is to make onsite clean energy deployment a reliable and seamless experience for any project type.
If you represent a corporation that wants to learn more about Station A's Marketplace and how it can help you streamline the steps to reach your clean energy goals, please reach out to us at info@stationa.com.