Station A's mission is to transition the world to 100% clean energy by helping make clean energy cheaper, more accessible, and more transparent to everyone.
As part of our mission, we created the Station A Marketplace so clean energy buyers can conveniently source detailed quotes from our trusted network of more than 2,000 clean energy providers through a streamlined, transparent and digital RFP process.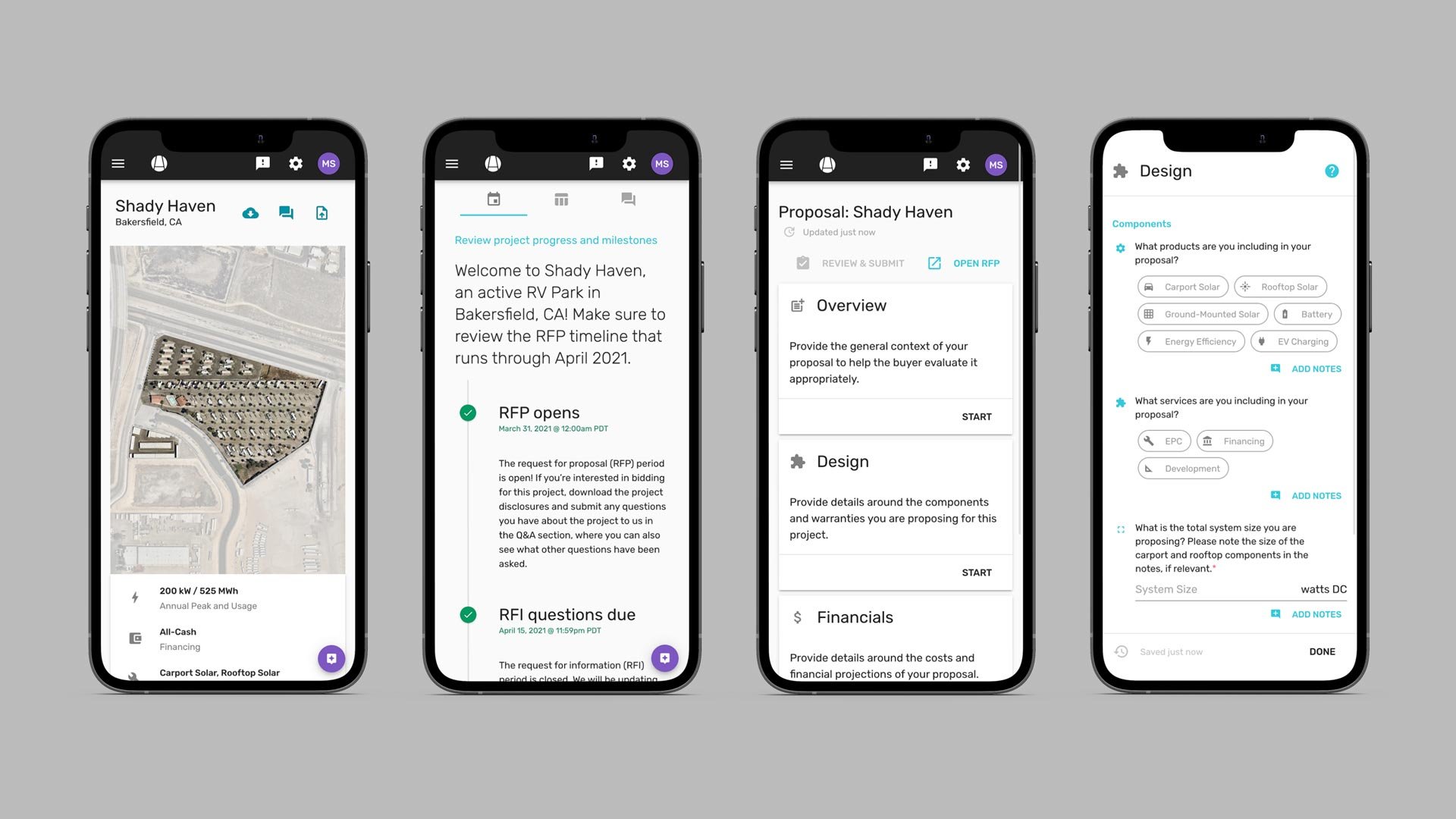 ⚙️ How clean energy is procured today
55% of the total price of a clean energy project is non-hardware related soft costs.
Procuring clean energy today is typically a time-consuming affair with lots of back-and-forth between buyers and providers. Buyers can spend a significant amount of time and money just researching if clean energy is a good fit for their buildings. Once they decide that it might be, they then invest in a lengthy process to manually solicit and evaluate proposals from a variety of clean energy providers. This inefficient process results in fewer clean energy projects initiated.
🌟 Station A's simple and transparent approach
Backed by our trusted provider network, Station A is streamlining, standardizing, and digitizing the process of buying clean energy.
Free clean energy grades
A buyer can start evaluating a single building or entire portfolio by entering their building addresses on stationa.com and getting their free clean energy grade, which provides an estimate of whether or not a building is likely to save money by switching to clean energy based on everything from rooftop area to the cost of electricity to the weather. Station A has identified an amazing 600,000 commercial buildings in North America where a clean energy project nets a positive return on investment.
First-of-kind digital RFPs
Once a buyer is ready to list their project, we onboard them to create a digital RFP that we publish to our trusted provider network. Any interested providers has an opportunity to learn more about the project, download additional disclosures and request more information from the buyer. The entire process from onboarding to term sheet is estimated to take two months to complete.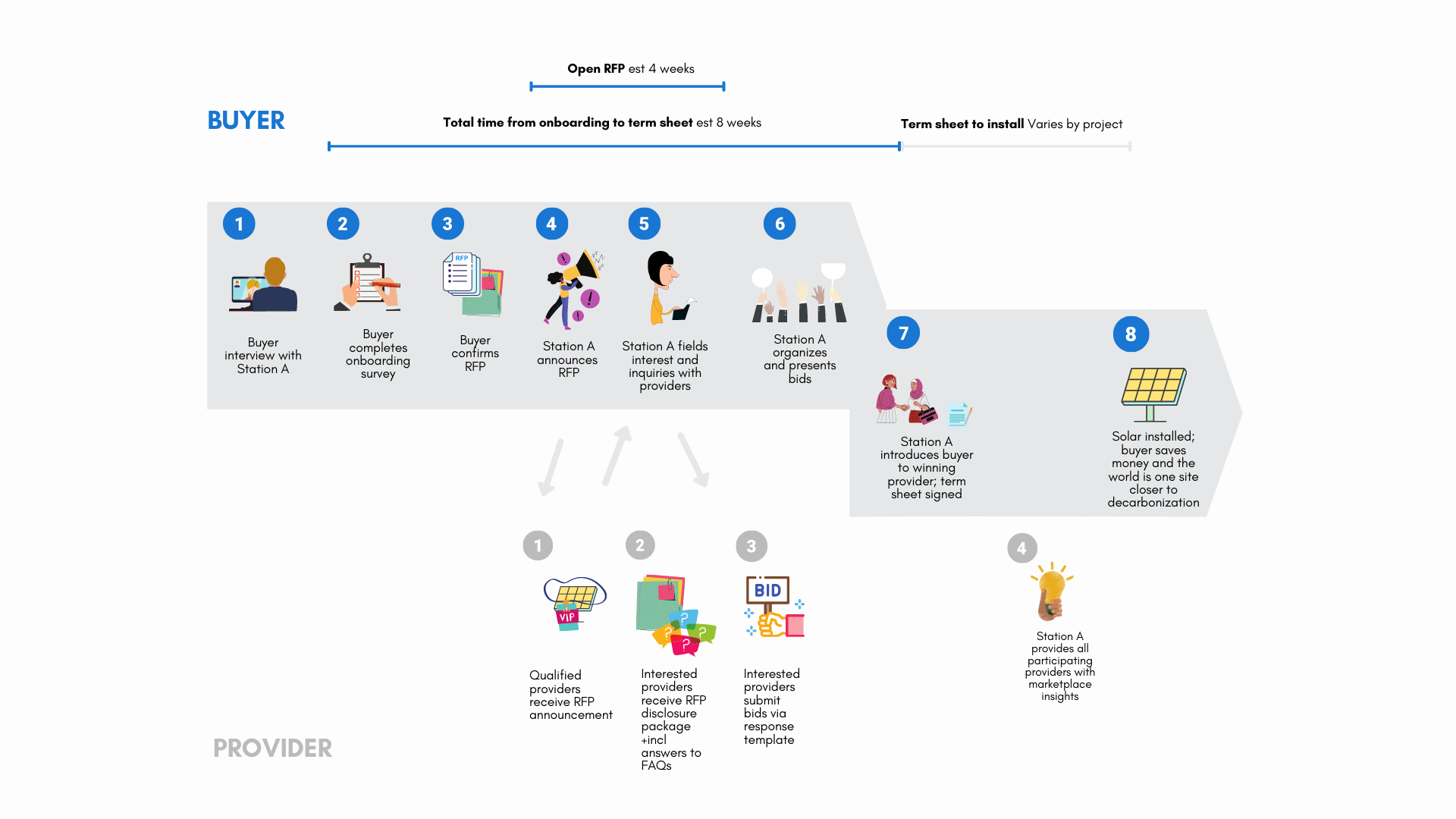 The Station A Marketplace process attempts to reduce unnecessary steps in the buying process and all steps are communicated to both buyers and providers.
🥇 The Station A advantage
For buyers
Get your free clean energy grade at stationa.com and instantly assess your buildings for clean energy. From there, check out our buyer's guide to the Station A Marketplace for more information.
There is no upfront cost for you to list a project on the marketplace
The whole process from onboarding to term sheet is streamlined to take two months to complete
Listing a project is as easy as filling out one form that includes your most important criteria for selecting a provider
Providers are sourced from Station A's trusted provider network that can service hardware, installation and financing
Proposals are designed to be comparable not just on price but also by provider experience and proposal details
For providers
Set up your Station A Marketplace profile so that potential clean energy buyers can better evaluate your proposals. Station A will collect a small success fee for projects that are originated, qualified, and progressed to term sheet.
Each project that is listed on Station A has been qualified to move forward based on project economics, available financing, and buyer readiness
Any interested provider can submit a proposal for an active project
Provider proposals are sorted based on their compatibility with the buyer's evaluation criteria
👋 Get started here
Are you a clean energy buyer interested in evaluating your buildings and kicking off your RFP in the Station A Marketplace? Get started here! Visit stationa.com and enter a building address to see your clean energy options or talk with one of our clean energy advisors to identify the best next step.