🚀 Two New Ways to Identify Clean Energy Opportunity
Today we are excited to launch the addition of community solar and EV charging analyses to our Clean Energy Report Cards. Where available, Station A report cards now offer a building-specific estimate of the financial benefits of a community solar subscription and a grid-specific estimate of EV charging potential at your building's location.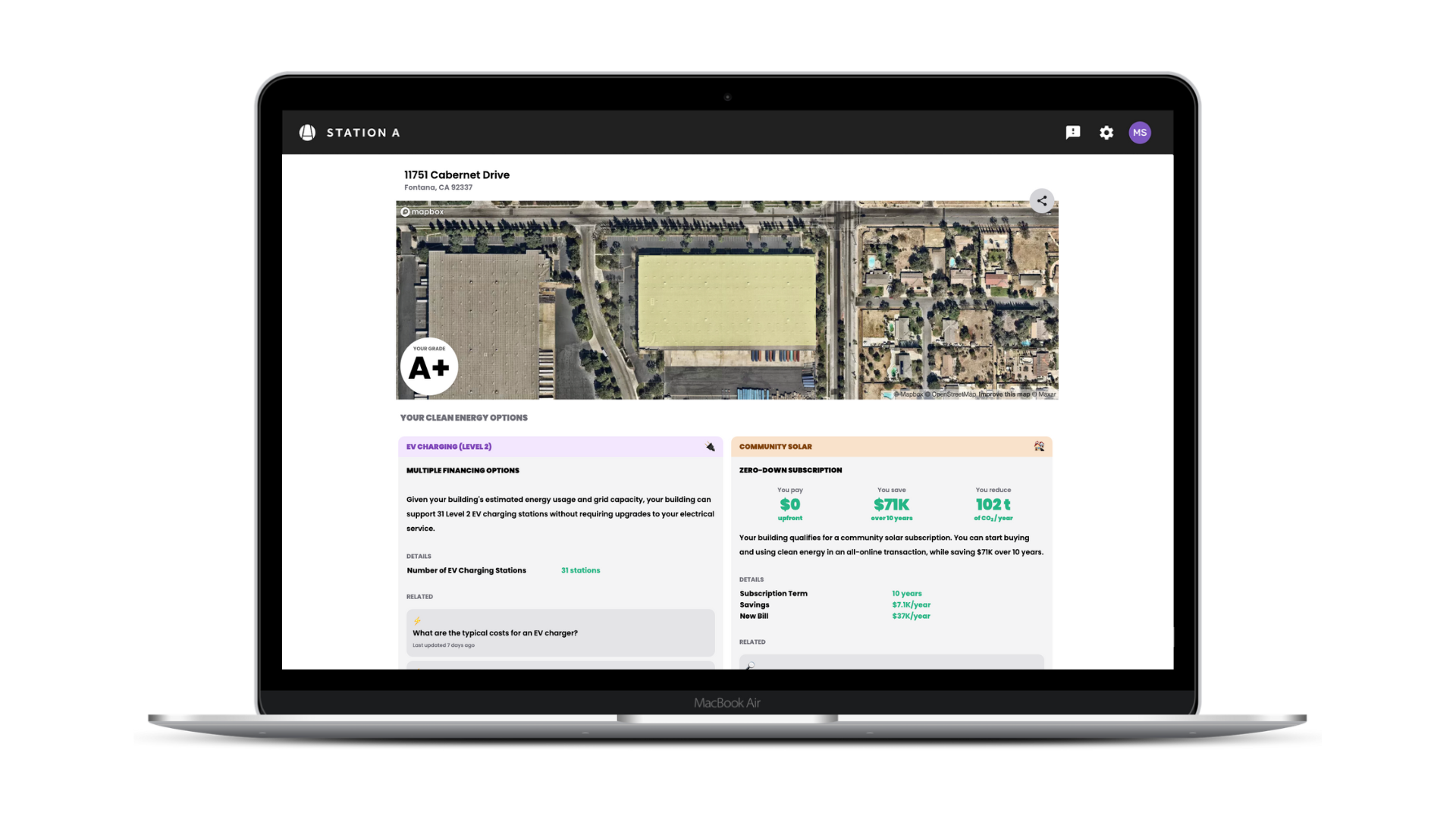 Station A's Community Solar report card predicts the financial return and amount of CO2 averted from a community solar subscription that offsets 100% of your building's energy usage. We provide a detailed breakdown of the subscription term, annual savings, new annual bill, lifetime savings, and total CO2 averted.
Station A's EV charging report card calculates the number of Level 2 EV charging stations you can install at your building location without requiring expensive upgrades to your electrical service. We base this number on your building's estimated energy usage and grid capacity.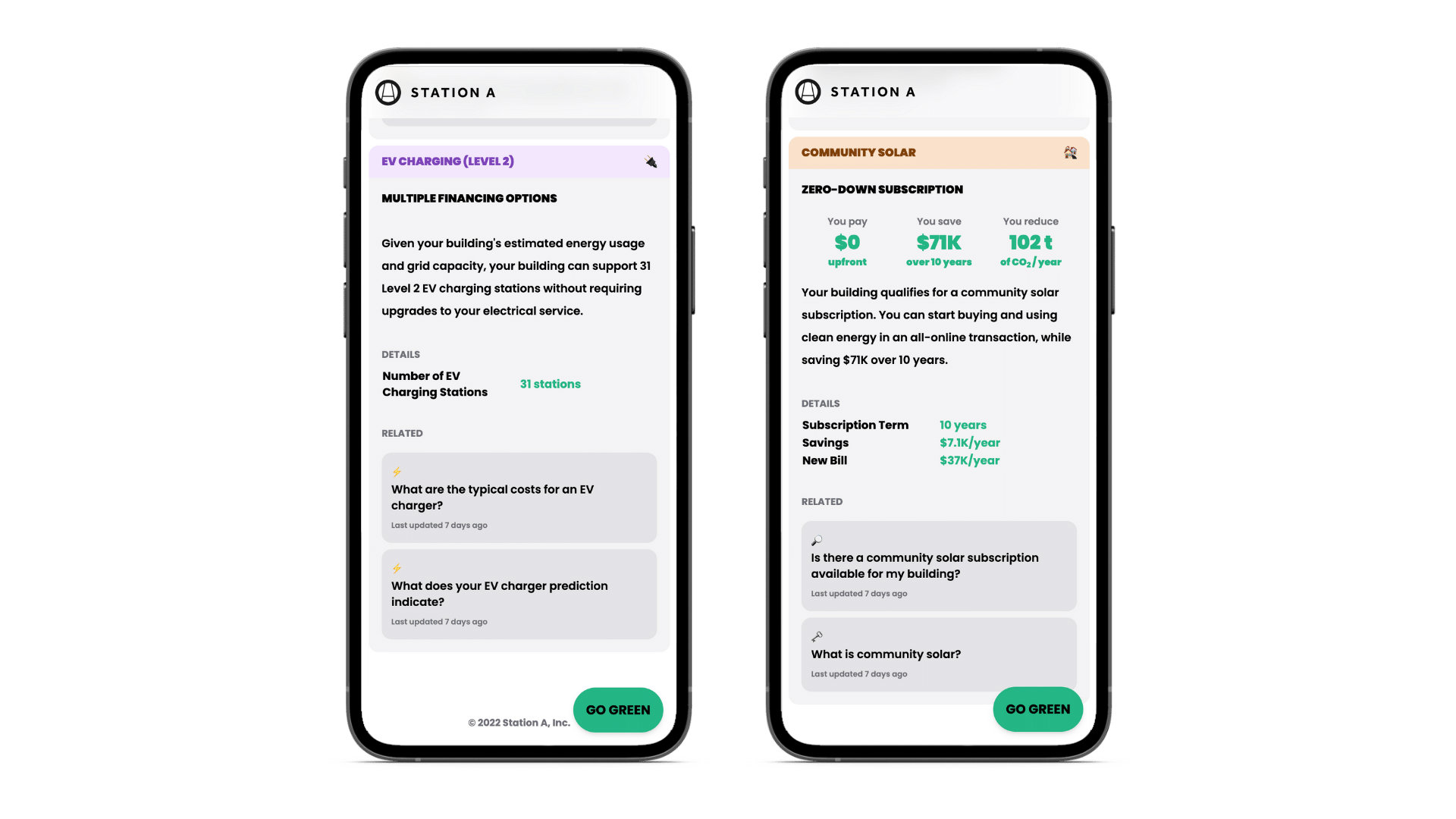 Along with each new analysis type, we've populated related FAQs to help you better understand whether Community Solar or EV Charging are right for your building.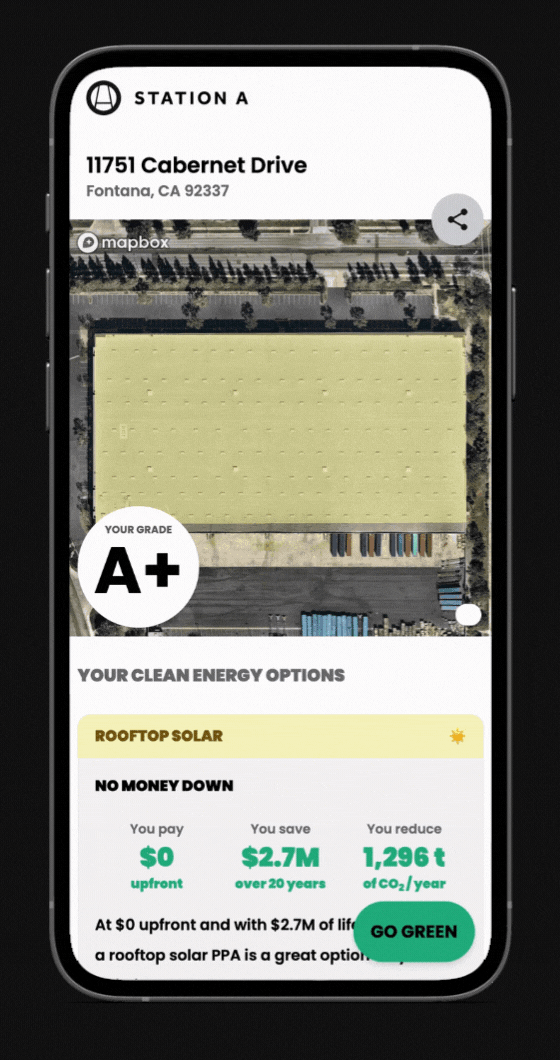 Navigating the full range of clean energy options can be overwhelming, Station A's Clean Energy Grades provide the most easily digestible rundown of which decarbonization pathways are available at your location. This is just another step in making it easy and efficient to take climate action and achieve your decarbonization goals.
🛒 Take action in our marketplace
Not only do we now support Community Solar and EV Charging analyses in our Clean Energy Grades, but we also continue to support Community Solar and EV Charging in our Clean Energy Marketplace. Our marketplace makes getting Community Solar and EV Charging for your building hassle-free, compiling the best offers from our provider network to bring you the smoothest experience with the lowest cost. To post a community solar or EV Charging project for bidding on the Station A Marketplace. Schedule a 15-min kickoff call with our team.
☀️ How to benefit from Community Solar
Community solar offers the financial and environmental benefits of solar without the hassle of installing panels on a site. We recommend community solar if a buyer wants to move quickly towards their ESG goals while enjoying immediate savings on their bill. Tenants are often a perfect fit as are buyers who can't or don't want to do onsite solar for a variety of reasons e.g. bad roof. Community solar subscriptions can in many cases be combined with onsite solar installations if multiple meters are available on site. See if your site qualifies for community solar and let us match you with a market subscription.
⚡ 🚗 How to benefit from EV Charging
EV adoption across the world is rapidly on the rise and as a result, so is the demand for EV charging stations. A transition to electric vehicles powered by clean energy is crucial in the clean energy transition, but to ensure its scalability and accessibility, EV charging stations must be installed at an increasing rate. Having EV charging stations at your building may soon be a requirement and can serve as an amenity to your building's tenants and employees.
🔍 See if EV Charging or Community Solar are right for your building
Enter an address on stationa.com to view a building's Clean Energy Grade. Your building's grade will include an analysis of the clean energy options available to you as well as financing options to support them. Tap the "GO GREEN" button to receive your clean energy buyer's guide with information about how to take the next step in your clean energy journey.