This past week we experienced yet another tangible effect of climate change: a planned utility grid outage in response to the high risk of wildfires across a large area of Northern California. PG&E cut off power to an estimated 700,000 homes and businesses beginning last Wednesday.
This sent people into a frenzy figuring out how to keep the lights on, food fresh, and conduct business as usual. Generators are often the first solution people think of in these situations, which makes sense given that you can buy one at Costco.
Unfortunately, most people don't realize that solar combined with battery storage can provide some resiliency at a competitive price, and without the fuel cost and emissions. Plus, solar and battery storage systems continue to produce and store clean electricity throughout the year, providing ongoing direct bill savings to the energy users.
This highlights a common problem: very few people understand the full spectrum of clean energy options available and their relative cost effectiveness. Station A is focused on providing more transparent access to clean energy data and insight.
Our platform instantly provides intelligent clean energy recommendations for approximately 1,000,000 commercial and industrial (C&I) buildings in the U.S. Our technology accounts for physical building characteristics, predicts electricity usage, incorporates available incentive programs, and calculates the cost of electricity from over 3,000 utility tariff rate structures.
One of the available incentive programs covers what the California Public Utilities Commission (CPUC) designated "High Fire-Threat Districts".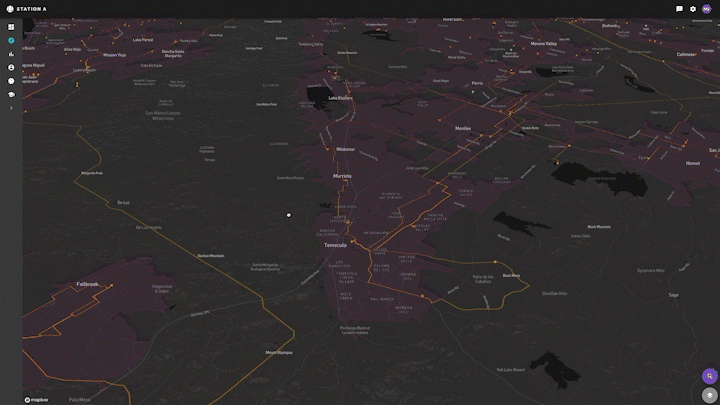 Exploring High Fire-Threat Districts near Temecula, CA using Station A
These districts are highly susceptible to California's wildfires, and include more than 16,500 C&I buildings over 10,000 ft². According to our platform these 16,500 buildings present major untapped clean energy potential:
Solar: 16,472 buildings, or 99% of all buildings, could save approximately $194M annually on their electricity bills.
Battery Storage: 1,818 buildings, or 10% of all buildings, could save approximately $18M annually on their electricity bills.
Solar and Battery Storage: 14,152 buildings, or 85% of all buildings, could save approximately $220M annually on their electricity bills, on top of the additional value from resiliency and less business downtime.
The fact that 85% of C&I buildings in High Fire-Threat Districts can save $220M annually on their electricity bills with solar and battery storage, highlights how far these technologies have come. It also highlights that we need a data-driven approach to uncover these opportunities.
Solar and battery storage developers, solution vendors, community choice aggregators, capital providers, and utilities can harness Station A's insight to communicate the value of these options and deliver better service to their customers.
Building owners and occupants can leverage this same insight to make smarter energy decisions and transparently assess their buildings for different clean energy options.
Visit StationA.com to see how data can play a role in the future of California's grid.